Merchandise from Fine Designs:
Fine Designs are providing Surrey merchandising both at the event and on-line this year.  The shop can be accessed at this link.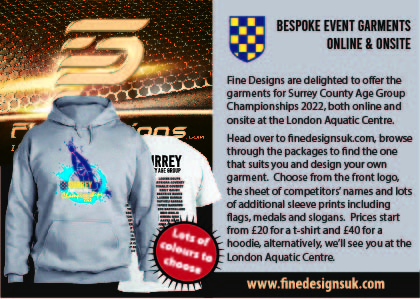 Results:
Results for the Championships can be found at this link.
Meet Programmes:
26 February:
27 February:
Accepted Entries:
Many thanks to all our competition secretaries for using our new On-Line Entry Portal to submit your entry files this year.  We have now validated all entries and processed the relays.  The updated Acceptance List is attached below.
We have accepted 320 consideration entries out of the 366 submitted.  The accepted entry list for the Consideration Entry is attached below.
Volunteers:
We would greatly appreciate both technical and non-technical volunteers to help us run the championships.  We are currently very short of volunteers for the non-techncial Field of Play roles at all session.  Please can you volunteer at one of the following links.  If you are a club with a larger number of entries, we do expect that you will encourage your parents to volunteer to make this event viable.
Technical Officials may register your willingness to volunteer your time for this event at this link.
Field of Play volunteers may register your willingness to volunteer your time for this event at this link.
Poolside Passes:
We are using the Swim England poolside pass system, that is used for National competitions, for coaches, team managers and chaperones.  The pass should be downloaded at home and brought with you to the meet.  We will provide wallets and lanyards.  All coaches, team managers and chaperones must be registered with Swim England and have recorded their relevant qualifications in the Swim England systems.  We would recommend that passes are applied for early to ensure any missing data is provided ahead of the meet.  No-one will be admitted to poolside without a pass.
Chaperones:  If a chaperone pass is required, the club (Chairman/Secretary)  needs to email Martyn Hudson at Swim England (martyn.hudson@swimming.org) with the members details (name and number) and request they be added to the list of Chaperones. Once added they remain on the list until removed.
Coaches, Team Managers, Chaperones:  The pass can be accessed through the member's individual page on the Swim Engalnd website.  Log on using the following path www.swimmingresults.org > members > English/Welsh Member Options and enter your user ID and password to access your membership page.  Once onto your individual membership page, select the option "Purchase accreditation for events click here."  You will then see a list of all the Counties and Regions using the on-line pass system.  Select the Surrey County event and print your pass at home.  If any of the requirements are in red, you must correct the data in the relevant Swim England system before you can print your pass.
Clubs need to pay for the number of coaches, team managers and chaperones they would like to have on poolside at any one time.  You can do this by completing the form at this link.
Non-technical volunteers should submit their poolside pass request by completing the form at this link.
Technical Officials must show their licence to gain access to the venues.  Any technical officials in training must apply for a Non-Technical pass.
Key dates are as follows:
Closing Date: 19 January 2022 (extended 50m entries close on 27 January 2022)
Age at date: 31 December 2022
Times to have been swum on or after: 1 September 2019
Dates and Locations:
The dates and venues are now confirmed as follows:
| | | |
| --- | --- | --- |
| Date | Venue | Events |
| 5-6 February | Surrey Sports Park (50m) | See Schedule of Events |
| 19-20 February | London Aquatic Centre (50m) | All 50m events and all relays |
| 26-27 February | Surrey Sports Park (50m) | See Schedule of Events |
Coronavirus – COVID-19:
The event conditions have been revised in response to guidelines from the Operator, Government and Public Health England related to COVID-19 and sporting competitions. The event will be operated under the COVID mitigation plan set out below and agreed with the Operator which all participants are be required to agree to as part of an opt in to the meet. If you are not prepared to follow these guidelines, you should not attend the meet.
Qualifying Times:
The published Qualifying Times include a separate QT for 17 year old swimmers.  This is for entry only.  As in previous years, the top age group for the meet is 17 & Over.  All races will be seeded and awards will be determined on this basis.
All submitted entry times must be recorded on British Rankings for the course swum.  No conversions are permitted for entry. Times from any licenced meet, including Level X and Masters, are eligible for entry.
Meet Entry Documents: