Friends and family of Farnham Swimming Club's Richard Allen are looking to raise more than £2,600 so he can compete at this year's Aquathlon World Championships in Canada.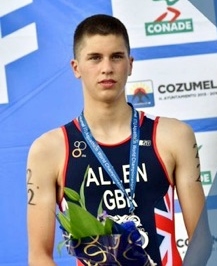 The meet, to be held at Okanagan Lake in Okanagan Valley, British Columbia, on Friday 25 August, consists of a 1,000m open water swim followed by a 5,000m off-track run.
Chris Lee, president of Farnham Swimming Club, said it was unfortunate that athlete funding was unavailable nationally for the event.
He said: "We are seeking support from local businesses and organisations in order to raise in excess of £2,600 to pay for Richard's travel and accommodation.
"His parents will be paying for his food and kit, including his support costs."
Richard won silver in the under-23 category at last year's world championships in Mexico and has been a national aquathlon champion for the last two years.
For more information about sponsorship or to make a donation contact Chris – chris.lee@staxgroup.com