Well done to Oscar Dyer, of Elmbridge Phoenix Swimming Club, for being the inaugural winner of the Jules Burvill award.
Oscar was among 34 talented swimmers to be selected on to the county development programme last year and took part in a string of camps during the 2022-23 season.
The award is presented to one of the athletes for engaging with the programme, developing as a swimmer and progressing their knowledge of the sport.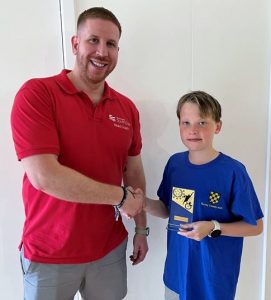 County coach Stuart McCrea said that the selectors – him, the other camp coaches and team manager – had a tough time deciding who should receive the prize first.
He said: "We found ourselves in a good but difficult situation. We had a number of swimmers we could have presented the award to.
"But Oscar's engagement during the sessions, both with his peers and the coaching team, and his general enthusiasm and politeness throughout the camps helped put him a touch above."
Stuart, who is now halfway through his two-year stint as county coach, said the coaches had been "excellent" across all the camps.
"The nature of working alongside a group of different coaches from different backgrounds will encourage the sharing of ideas and different practices," he said.
"Although they come armed with an extensive skill set, these camps are as much about coach development as well as swimmer development."
Stuart added that all the swimmers had been thoroughly engaged in the camp content, too.
"The athletes have different strengths and weaknesses," he said. "But all would have left this year's programme having taken something away, be it new skills, practices or even just reinforcement of existing skills."
Team manager Hannah Davies added: "The award is in memory of the late Jules Burvill, one of Surrey's beloved swimming volunteers who died a couple of years ago.
"Jules was team manager for the county team and the development programme for many years, and it is here that we honour her name.
"As a tribute, in consultation with the Surrey committee and Jules's family, this award will be given out every year at the end of a camp cycle."
The county development programme is the first rung of the Swim England talent pathway ladder.