Thirty-Seven counties came together in Sheffield to battle it out and seek new rankings for the season ahead. Many of our future Olympians and British junior teams are also out in force representing their counties.
Surrey aimed to better their position of 10th from 2019, the last time this event was held, against friendly and healthy rivalries from the surrounding counties and those across England, Scotland and Wales, with some cheeky banter thrown in for good measure.
The pre-event team building gathering at Wild Wood Adventure two weeks previously, had obviously worked well as the team met at Guildford Spectrum on Saturday 1 October for the coach trip to Sheffield in high spirits.
After arriving at our hotel, allocating rooms, Surrey was able to spend some much needed rest and recuperation after dinner to prepare for the competition the following day.
We were incredibly proud to take such a great team to this year's competition
After breakfast the traditional 'official team photo' happened and thankfully everyone could be seen (just).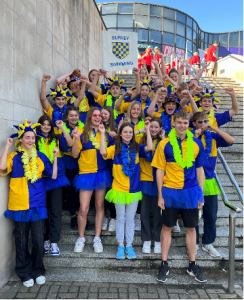 Then in keeping with tradition the whole team donned tutus, garlands and matching jester hats.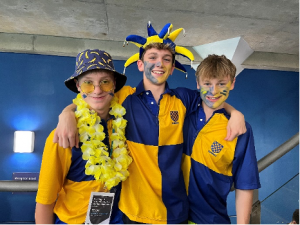 After our allotted warm-up time the team then got to work on the face painting (full body painting was not allowed this year much to the disappointment of several team members).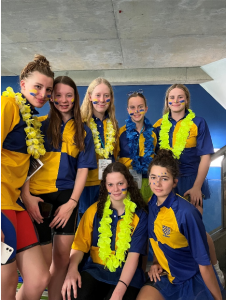 The meet is split into two divisions competing simultaneously. Division One swims nearest the scoreboard and Division Two nearest the diving pool. Surrey competed in Division One to deafening noise levels, blasting air horns, drums and vuvuzalas right the way through the competition. Not to be outdone the Surrey chant, led by Joe, was certainly heard around the pool.
The competition starts with the parade of teams. Surrey walked out proudly led by our captains Dominic Morgan (Leatherhead SC) and Zoe Ryan (Guildford City SC).
Darcy Revitt (Guildford City SC) got us off to a great start in the girls' 16/17 year 100m freestyle, with a short-course personal best (SC PB) of 56.25 seconds to finish 3rd. Some hard-fought races followed and swimmers were really stepping up to the challenge. Despite being in the younger bracket of her age group, Ella Silano (Haslemere SC) swam a massive SC PB of 1:15.99 in the girls' 12/13 year 100m breaststroke which added to Surrey's total points score.
Surrey secured maximum points with two top places: Max Morgan (Wandsworth SC) swam a SC PB of 1:05.45 in the boys' 14/15 year 100m breaststroke and Scarlett Sheppard (Guildford City SC) clocked a SC PB of 1:05.35 in the girls' 12/13 year 100m butterfly with both being in the younger bracket of their age group, an amazing achievement.
Bearing in mind the whole team are in hard training early in the season, they are already producing staggering times.
Pulling off an impressive second place Joe Wey (Guildford City SC) swam a massive SC PB of 53.01 secs in the boys' 14/15 year 100m freestyle. Our other individual top three placing came from Tegan Matthews (Guildford City SC) with a SC PB of 1:03.77 in the girls' 14/15 100m Backstroke. This is certainly a race to watch next year as all three top finishers were in the younger bracket of their age group.
Surrey had three more top 3 placings which went to relay swims, which shows that working together as a team really does bring out the best. The girls' 12/13 medley team of Scarlett Sheppard (Guildford City SC) Ella Silano (Haslemere SC) Delilah Martin (Haslemere SC) Ella Humphries (Guildford City SC). The girls' 14/15 medley team Tegan Matthews , Charlie Cope, Nancy Knight, Emma Hagberg (All Guildford City SC). The boys 14/15 medley team of Aidan Orpin (Sutton & Cheam SC) Max Morgan (Wandsworth SC) Charles Clarke, Joe Wey (both Guildford City SC) just making sure the girls didn't take all the glory.
Our thanks to our volunteers who travelled with the team, Amanda Partridge (Epsom SC) and Jane Henwood (Wandsworths SC) as our officials and Justine Ryan (Guildford City SC) as assistant.
Due to our county coach Stuart McCrea missing the event (performing best man duties) Jo Tierney (Guildford City SC) and Keir Graham (South Croydon SC) stepped up admirably.  Jo said "What an absolute pleasure and a privilege to have been a part of it.  The swimmers swam out of their skins and behaved so well with a great team spirit."
Team spirit was key to the overall success of the final result, despite several swimmers suffering from colds and generally feeling not 100% Surrey came an incredible 5th overall, equalling our best result ever.  The results are available here.
Hannah Davies