Coaches Forum:
We are holding the 2023 Coaches Forum via Zoom on Monday 13 March at 6pm.  The purpose of this meeting is to discuss what worked well at this year's Surrey Championships and what we need to improve for 2024.  We will also discuss the outline programme for 2024.  The link for the meeting has been distributed to all competition secretaries who have been asked to pass it on to all coaches. The minutes of the meeting are here.
Changes to the format of the Surrey County Events in 2023:
Following the Coaches Forum in March, we are changing the format of the County Championships for 2023.  There will continue to be an individual County Championship in January/February to comply with Swim England directives.
We are moving the Relay gala to 10 September 2023 as a "beginning of the season" event and early practice for any Arena league teams.  The venue for this will be K2 in Crawley and will be run short course.  We may amend the number of relays and a schedule of events will be published later this year.
There will be a separate web page for this event.  The details below are for the individual Surrey Age Group County Championships.
Key dates are as follows:
Closing Date: 18 January 2023
Age at date: 31 December 2023
Times to have been swum on or after: 1 January 2022
Accepted and Rejected Entries:
The accepted entries can be found at this link.
The rejected entries can be found at this link.
Meet Programmes:
Results:
The full results and the Championship tables can be found on the results page at this link.
Spectators:
We will be hosting swimmers and coaches on poolside in 2023.  The majority believe that this will generate a better eperience for our County qualifiers.  As a result we will be limiting the number of seats available to spectators but there will be no charge for these.  We, and I am sure your fellow spectators, would appreciate you vacating a seat once you no longer need it.  The seatng will be on a first come first served basis.  There will be a barrier at the 25m point beyond which you will need a poolside pass to access or be a swimmer!
Merchandise: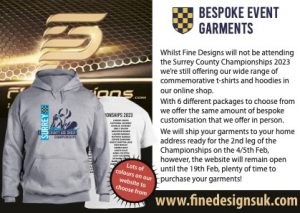 Whilst Fine designs will not be attending the Surrey County Championships 2023, they will still be offering their wide range of commemorative hoodies and t-shirts in their online shop. With 6 different packages to choose from, they offer the same amount of customisation that is offer in person. They will ship them to your home address, ready for the 2nd leg of the Championships on the 4th-5th of February. The website will remain open until the 19th February 2023- plenty of time to purchase your garments! Head over to the website:  https://www.finedesignsuk.com/surrey-age-group-county-championships-2023
If you have any questions, please do not hesitate to contact Fine Designs via their "contact us" page or call 01903201068.
Awards:
We have decided, with regret, that we cannot accommodate the formal presentation of medals into the timeline.  All medals will be available for collection at the medals desk and there will be a space available for swimmers to have photographs taken with representative trophies and any dignatories attending on the day.  We have an Official Photographer attending this weekend.
Official Photographer:
We will be using an official photographer this year, Simon Roe.  He will post the photos taken to his website from which purchases can be made.  You can access the gallery of photographs through this link.  We will provide an area where photos can be taken of a swimmer with their medal and a County or Regional president when available.  A suitable trophy will be provided for purposes of the photo if appropriate.
Volunteers:
We would greatly appreciate both technical and non-technical volunteers to help us run the championships.  We are currently very short of volunteers for the non-techncial Field of Play roles at all session.  Please can you volunteer at one of the following links.  If you are a club with a larger number of entries, we do expect that you will encourage your parents to volunteer to make this event viable.
Technical Officials may register your willingness to volunteer your time for this event at this link.
Field of Play volunteers may register your willingness to volunteer your time for this event at this link.
Poolside Passes:
We are using the Swim England poolside pass system, that is used for National competitions, for coaches, team managers and chaperones.  The pass should be downloaded at home and brought with you to the meet.  We will provide wallets and lanyards.  All coaches, team managers and chaperones must be registered with Swim England and have recorded their relevant qualifications in the Swim England systems.  We would recommend that passes are applied for early to ensure any missing data is provided ahead of the meet.  No-one will be admitted to poolside without a pass.
Chaperones:  If a chaperone pass is required, the club (Chairman/Secretary)  needs to email Martyn Hudson at Swim England (martyn.hudson@swimming.org) with the members details (name and number) and request they be added to the list of Chaperones. Once added they remain on the list until removed.
Coaches, Team Managers, Chaperones:  The pass can be accessed through the member's individual page on the Swim Engalnd website.  Log on using the following path www.swimmingresults.org > members > English/Welsh Member Options and enter your user ID and password to access your membership page.  Once onto your individual membership page, select the option "Purchase accreditation for events click here."  You will then see a list of all the Counties and Regions using the on-line pass system.  Select the Surrey County event and print your pass at home.  If any of the requirements are in red, you must correct the data in the relevant Swim England system before you can print your pass.
Level 2 Teachers should submit their poolside pass request by completing the form at this

link.

Clubs need to pay for the number of coaches, team managers and chaperones they would like to have on poolside at any one time.  You can do this by completing the form at this link.
Field of Play volunteers should submit their poolside pass request by completing the form at this link.
Technical Officials must show their licence to gain access to the venue.  Any technical officials in training must apply for a Field of Play pass.
Dates and Locations:
The dates and venues have changed and are now confirmed as follows:
| | | |
| --- | --- | --- |
| Date | Venue | Events |
| 21/22 January | Surrey Sports Park (50m) | See Schedule of Events |
| 4/5 February | Surrey Sports Park (50m) | See Schedule of Events |
Qualifying Times:
The published Qualifying Times include a separate QT for 17 year old swimmers.  This is for entry only.  As in previous years, the top age group for the meet is 17 & Over.  All races will be seeded and awards will be determined on this basis.
All submitted entry times must be recorded on British Rankings for the course swum.  No conversions are permitted for entry. Times from any licenced meet, including Masters, are eligible for entry.
Meet Entry Documents: