Bubbly, caring and irreplaceable county swimming volunteer Julie Burvill has died aged 54.
Jules, as she was affectionately known, became involved in swimming when her daughter took up lessons at Woking Swimming Club about 20 years ago.
Leading the tributes Michael Holden, president of Surrey County ASA, said it was hard to overstate the positive impact she had had on both Woking SC and county swimming.
He said: "If you have been to any of the Surrey Age Group Swimming Championships or development meets in the last decade, you will have seen Jules sitting alongside the announcer, controlling the galas with her customary ruthless efficiency.
"She was a stalwart of competitive swimming in Surrey.
"Through her hard work and diligence over such a long period of time, generations of swimmers owe her a debt of gratitude. Her untimely passing leaves a massive hole that both organisations will struggle to fill."
County coach Matt Smart, who worked with Jules on the county development programme and team selection for the National County Team Championships, praised her terrific organisational skills.
"Jules was the backbone to all things about the county development programme and the inter-county team," he said. "Anything that needed organising, she was on top of it before it had even entered my brain.
"She was there in the background, always smiling and enjoying herself, keeping things running smoothly and effortlessly, making our jobs a million times easier. There was never a dull moment when Jules was involved, and whatever the situation she was always in control of it."
Matt said she was the "lifeblood" of the inter counties, compiling the team well in advance and organising fun team-building activities to bring all the swimmers and coaches together. At the competition she would ensure everybody was enjoying the experience to the hilt and having the time of their lives.
The 2019 National County Team Championships was one of the best meets Matt had ever attended. "There was nothing but laugh after laugh between the coaches and team managers that weekend," he recalled fondly.
"Jules has been a part of so many fantastic swimmers' journeys, and many people, both young and old, will have been impacted by her joyful and caring nature," he added. "There isn't a swimmer who has come through the Surrey ranks that doesn't know Jules. She will be sorely missed by swimmers and coaches alike from all corners of Surrey."
Former county coach David Vine, head coach of Leatherhead SC, insisted that the work she had undertaken for the county was second to none. She cared deeply about everything she got involved with, especially that the swimmers were enjoying themselves.
"Jules was a fantastic ambassador for the sport," said David. "She was an amazing individual who had the respect from all she met. My time as county coach was made even more fun with Jules by my side.
"Every meet that I attended where Jules was involved, she spent time coming round to poolside to talk with all the coaches and swimmers. This was something appreciated by all, particularly the coaches, who really felt listened to. Poolside will now seem a little quieter."
Shortly after joining Woking Jules started to help at poolside training sessions, before taking on the treasurer role. She became a key figure on the executive committee thereafter.
She was instrumental in the creation of the club's Learn To Swim, which immediately became successful and expanded into a large-scale operation of its own.
In addition to helping raise a generation of people with swimming skills and feeding the club with potential new competitive swimmers, it was Learn To Swim that secured the club's financial position and enabled it to weather the storm through the pandemic.
When the club took the major decision to invest in its own electronic timing equipment, Jules took on a further role in developing and leading what became a renowned Woking back office team that supported and recorded all gala timings with clinical efficiency.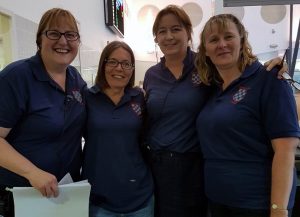 Her involvement expanded by taking up various posts within Surrey County ASA. She served on the management and swimming committees and, most importantly, oversaw the non-technical swimming officials for all the county competitions.
She succeeded Tracy Pearson as county team manager, taking coachloads of swimmers on the annual pilgrimage to the inter counties at Ponds Forge, trips involving an overnight stay in Sheffield.
County meet promoter Alan Thurlow said Jules's swimming knowledge was essential to the way the events were organised, adding that she delivered "fantastically well-managed field-of-play activities."
"She will be difficult to replace," said Alan. "I was always more relaxed when Jules was around. I knew any difficult situations with coaches, swimmers or parents would be handled sensitively but firmly."
Irene Holden, who runs the Woking SC shop, said Jules had been integral to the club for many years; she was the person who "got things sorted and organised". She would also drum up a group of non-technical volunteers to help at the county events, comprising mostly parents of ex-club swimmers.
"Jules was a lovely, bubbly person all round," said Irene. "She helped everyone. She was a person you could talk to and she knew who to talk to to get things sorted. She has left a very deep hole within the club and it will be difficult to fill her shoes."
Woking SC chairman Brian Robbings said Jules's willingness to share insight, experience, ideas, reassurance and support on any challenge – at any time of the day or night – would be greatly missed.
"Possibly the most important contribution Jules has made to the club has been her energy and endless support for other committee members, volunteers, parents and swimmers on any matter related to swimming and the club.
"The ethos, spirit and heart of Woking SC have very much been driven and influenced by this amazing lady," he added.
Swimming official Diane Gamble, a Surrey County ASA past president, said Jules's contribution to county swimming over the last 10 years had been immense and her enthusiasm was "infectious."
"Jules was a doer," Diane said. "No task was too daunting and she was so efficient. She dealt with any issues which occurred at the events, always with a smile and positive attitude. Typical Jules, always with a smile.
"I will remember her for that, and mourn the loss of a dear friend who was always so full of life."
She is survived by husband Brian and daughter Hannah.
Donations to Jules's memorial fund for covid:aid can be made here at JustGiving.
Born July 14, 1967, she died November 20, 2021.