Veteran swimming official Ann van Beukelen has been presented with an ASA London Region long service award.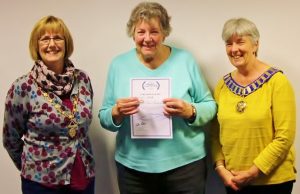 Marking 10 years' service, a silver pin and certificate were presented to her at a county management meeting by Diane Gamble, London Region vice-president, and Carole Chaplin, president of Surrey County ASA.
Carole said: "Ann has always been a much respected referee in my eyes and one of the stalwarts and backbone of Surrey officials.
"She is extremely reliable and always puts herself out to be at all the galas she is asked to attend.
"I have been involved with Surrey Schools' Swimming Association for well over 30 years, slightly longer than I have been an official, and she has always come and helped at our galas, which is how I came to know her."
Diane, who has been officiating for almost 20 years, said Ann was a friend and mentor and dubbed her "Mrs Swimming."
She added: "Her blood is made up of chlorine. Swimming has been her life. Everyone knows her and the swimmers at Kingston have all passed through the cadets, which she has been involved with since her children were small."
Ann has been an officials' trainer for more than 25 years, is on the London licensing panel and was, until recently, the London representative on the National Swimming Officials Group.
In 2008 she was the recipient of the Alfred H Turner award, presented nationally to an organisation or individual making an outstanding contribution to aquatics at club, county, regional, national or international level.
Surrey County ASA vice-president Richard Willis said her contribution to Surrey, London, the old Southern Counties district, and nationally had been "significant, perhaps tremendous."
Past ASA, regional and twice Kent president Kay Grimshaw, who heads the London Swimming events management committee, said Ann's involvement had been for ever.