The World Masters Games, the world's largest multi-sport event, took place in Auckland during April. It was well attended with over 28,000 competitors, including para-athletes, aged 25 to 100+, competing in 28 sports.
The swimming had 1500 competitors aged between 25-95, and it was held at the Sir Owen G. Glenn National Aquatic Centre, part of the Auckland University of Technology's Millenium High Performance Sport NZ hub. The swimming was well run, no late evenings as we have experienced in European and World Masters events because it was run over 7 days, including 1.5k, 2.5k and 5k open water events. The open waterswims could be done as either competition or recreational.
Surrey had two representatives at the Games – Mike Hodgson (Guildford City) and Christine Goodair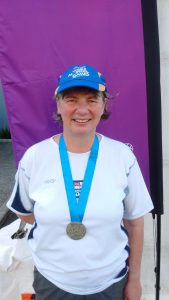 (Kings Cormorants).
Christine swam for Kings Cormorants in her solo events and joined the Royal Navy in one of their ladies' relay teams. We congratulate her on achieving personal bests in all her races – 200IM, 200 Back, 50 Breaststroke, Back and Freestyle and holding her position in the top ten for each event in her new 60-64 years age group. Her best result of all was winning Gold in the Ladies 240+ Age Group 200 Freestyle relay with the Royal Navy Team.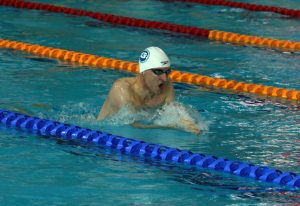 Recently aged up into the 50-54 group, Mike was the stand-out British performer leaving his mark upon the Games with five Gold Medals. Unbeatable in his trademark Breaststroke, Mike had a clean sweep in the 50, 100 and 200m events. His all-round prowess was already demonstrated in winning the 2016 UK Masters Decathlon and Mike duly added Antipodean gold in the 200m IM and 50m fly.