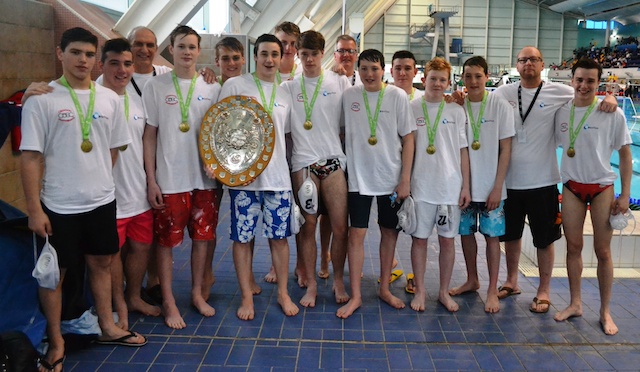 Croydon Amphibians water polo were strongly represented at the ASA National competition at the weekend with two age group squads making it to the final stages of this premier club competition. The U19 squad had a tough time of it first coming up against eventual tournament winners Solihull in the semi finals and then losing in a tight contest to Cheltenham 17 – 13 in the bronze medal play-off.
 The under 17 squad however fared better with first a dominant performance against Watford winning 12 – 4 to set up a final that was a chance for a rematch against Kent county team Invicta which was a team that had beaten Croydon in an earlier qualification round.
It was clear the Croydon team had tactically learnt a lot from the encounter earlier in the year and were all well prepared for how they could play the match but it took outstanding goalkeeping performances first from Ben Goddard and then Ieaun Jones aligned with strong defensive displays from Kane Nurse, Dylan Nurse, Costas Chamalidis and the impressive Alex Waller which allowed creative mid bath play from Nikos Chamalidis, Ethan Staunton and the energetic Ross James to set a platform for Charlie Briers, Ashley Castle and the finals top goal scorer Matt Helps to spear head the attack.
Under 17 Coach Mickey Helps said after the Final "I'd like to thank Team Manager Colin James and assistant coach Martin Waller for their support and advice throughout. Every member of the squad played their part in this victory and the players showed great character taking the victory they deserved when it counted against a team that had previously beaten them. They have grown as a team throughout these championships"
Report from British Swimming is available here