As Europe's elite cleared out after the London Aquatic Centre, the pool was taken over by Europe's Masters from 25-29th May.
Results are available through this weblink LEN Masters 2016
The final day of the Championships has again seen Surrey Masters medallists. Mike Hodgson took Bronze and lowered his own British Record in the 200m Breaststroke. Michelle Ware, like Guildford City clubmate Mike, took her third medal of the competition with a splendid silver in the 50m Freestyle. Jane Asher completed her sweep of Gold medals with another victory in the 50m Freestyle.
Day Four (Saturday) had been feared to be a busy day with 50 Fly and 100 Free events, the latter with nearly 2000 listed competitors. However, most swimmers managed to get into their warm-ups and events, and Surrey's finest again graced the podium.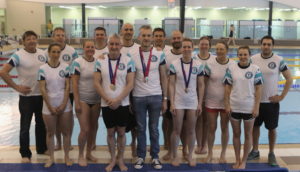 Michelle Ware took her second medal with a bronze in the 100m Freestyle. (Much) later in the evening, Kings Cormorants' 320+ Mixed Medley Relay Team took Gold. Elizabeth Savidge (Kings Cormorants) took bronze in the 400m Freestyle just ahead of clubmate Penny Webster. Jane Asher took her age group Gold with yet another amazing swim.
The organisation looks to have been better on Friday, the third day. Guildford City's Michelle Ware kicked off the podium appearances with a silver and a British Record in the 50m Backstroke. Clubmates David Bryant and Mike Hodgson followed her example each taking bronze and a British Record in the 100m Breaststroke. Epsom's Matthew Breckon came close with an excellent 4th place in the 400m Freestyle.
The second day saw the patience of many and the event logistics stretched beyond the call of duty as shorter events – 50 Br, 100 Fly and 200 Free – vastly increased the number of competitors.
Our Queen of Masters Swimming, the imperious Jane Asher was unchallenged as she romped to Gold in the 200 Freestyle and a World / European and British Record (to be confirmed).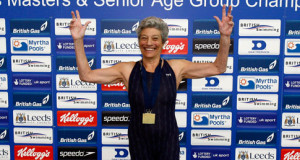 Guildford's breaststroke stars fought their way through transport and queues to take medals in the 50m event. David Bryant lowered his own British Record in taking bronze in the 55-59. Mike Hodgson was forced to swim his heat without a warm up and had to settle for a silver in the 45-49, but looks good for success at the next Euros when he moves up an age group.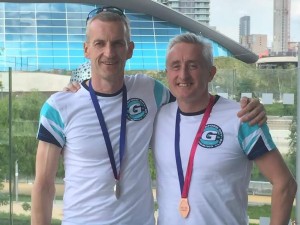 Christina Victor (Guildford) was oh so close with 4th place in the 100 Fly but had the consolation of a Welsh Masters Record.
A late evening addition to the medal haul was Gold for Kings Cormorants in the 280+ Ladies' Freestyle Relay, heading Spencer by 0.04sec! Brilliant work Ladies – Jane Asher, Elizabeth Savidge, Penny Webster and Christine Goodair.
Success came early for Surrey's swimmers on the first day as Guildford City's David Bryant took 200IM Silver 55-59 and a new British Record.