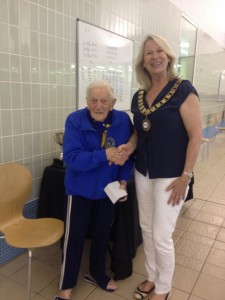 The "John Harrison Centenary" Surrey Masters Championships took  place at Surrey Sports Park on Saturday 7th June 2014. Once again it was a privilege to be able to use this great facility and many thanks to Luigi Mansi of SSP and his team for their hard work and support, during the day and in the run up to the meet.
And what a day it was! John gave his all in the 50 back but was unable to take back his World 50 Backstroke record. However we were delighted to welcome back 2012 Olympian Marco Loughran who served up a 24.17 50m backstroke to smash the existing World 25-29 Record. Mike Hodgson is usually good for a record at most meets he attends and, sure enough, he delivered with a 1:01.27 100m IM British Record. Both records are, of course, subject to ratification.
Over 160 swimmers competed this year and all races were fought fiercely, but conducted with the friendly spirit that typifies Masters Swimming and especially Surrey Masters.
The sessions and events table is here: Events table  Results for each session are shown here:
Session 1 surrey_masters_2014_session1
Session 2 surrey_masters_2014_session2
Session 3 surrey_masters_2014_session3
The Victor Ludorum Trophies were presented by John Harrison, joined by our SE Region President Shelley Robinson (Kent) who kindly agreed to join us after a busy day elsewhere.
Victor Ludorum Winners victor_ludorum_2014
The team trophies were also presented by John and Shelley:
Ladies Team Trophy womens_team_points_2014
Mens Team Trophy mens_team_points_2014
Relays Team Trophy relay_points_points_2014
Overall Team Trophy overall_team_points_2014
Results will be passed to British Masters for inclusion in rankings, but I need to collect some missing ASA numbers.
In addition, the results are also available on Meet Mobile so get the (free) App for your smartphone and see all the detail you need!
Once again a great big thank you to all our Officials and Volunteers – I must mention Lyn Green, wife of James, who did such sterling work on the door with programmes and medals.
As ever, I truly value your support as competitors and will be delighted to have any feedback on what we can do better next year.
Jim Boucher
Surrey County Masters Officer jboucher.esys@gmail.com