Surrey swimmers' sensational performances lead to a breathtaking finale at the National County Team Championships in Sheffield, writes team manager Hannah Davies
After a thrilling team-building day in late September, learning to drum like warriors, the county swimming team set off for Sheffield on a glorious sunny October day. Surrey had big shoes to fill, as last year we equalled our highest-ever ranking of fifth in the modern era (since 2002).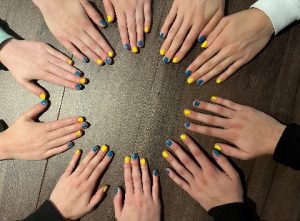 After arriving at the hotel and allocating rooms, our swimmers were able to spend some much-needed rest and recuperation to prepare for the competition the following day. The girls chose a calming activity – painting their nails in the blue and yellow Surrey colours. I won't tell you what the boys got up to. Then it was time for dinner, a team talk and lights out.
After breakfast the next morning, donning our distinguished harlequin tops, the traditional official team photo was staged – and thankfully everyone could be seen in it.
As soon as we got to our allocated seating at the pool, kitted out with tutus, garlands and matching jester hats, the swimmers got to work on their face painting. Coaches, team managers and swimmers all joined in the team spirit and wore the blue and yellow Surrey colours with pride.
The meet is split into two divisions competing simultaneously. Division One swims nearest the scoreboard and Division Two nearest the diving pool.
The competition is preceded with a team parade in alphabetical order. Surrey walked out proudly led by our captains, Alexander Lawrie (Leander) and Sophie King (Woking), to the biggest cheer by far (not that I'm biased). After a few dance numbers, where Surrey proved they definitely had the moves, the main event arrived. The swimming!
Many future Olympians and British junior team members were out in force representing their counties so we knew the competition would be fierce.
Surrey competed in Division One to deafening noise levels, blasting air horns, drums and vuvuzelas right the way through the competition. Not to be outdone, the Surrey chant, led by Joe Wey (Guildford City), echoed around the pool.
After a solid start it didn't take long for the swimmers to show they were on fire. Gisella Silano (Guildford City) and Charlie Calf (Guildford City) swam massive short course PBs of more than three seconds in the 12/13-year 100m breaststroke, both finishing fifth, which added to Surrey's total points score.
After only a few races we recorded our first top-three spot. Aidan Orpin (Sutton & Cheam) romped to third in the open/male 14/15-year 100m butterfly in a time of 56.64. Our first maximum points were won by Max Morgan (Reed's) in the open/male 14/15-year 100m breaststroke, in a blistering time of 1:02.36. This was followed quickly by the female 12/13-year 200m medley relay team of Ami Jones (Leatherhead), Gisella Silano, Scarlett Sheppard (Guildford City) and Alexandra Platt (Woking).
In the next race, the open/male 14/15-year 200m medley relay, Aidan and Max were joined by Aquiles Bello (Elmbridge Phoenix) and Jack Robinson (Reed's), who showed the great strength we have by also gaining maximum points.
At the halfway stage Surrey sat in seventh place, pulling off an impressive 10 personal-best individual swims. More top-three places followed in the second half of the gala.
In the female 12/13-year 100m backstroke and butterfly, Scarlett Sheppard finished second and third respectively; Alexander Corver (Whitgift), in the open/male 16/17-year 100m breaststroke, came third. In the 14/15-year 100m backstroke events, Tegan Matthews (Guildford City) in 1:03.24 and Aidan Orpin in 57.13 both secured top spots and maximum points.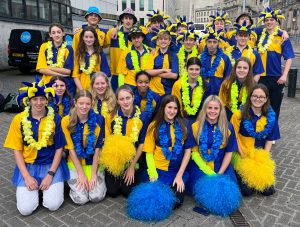 With just the final set of relays left, the rolling points displayed on the scoreboards were turned off. Producing another top-three finish were the female 14/15-year 200m medley relay team of Tegan Matthews and Holly Hopwood (Guildford City), Delilah Martin (Haslemere) and Ellie Freeze (Sutton & Cheam).
After a thrilling squadron freestyle relay, the final team points were announced. Surrey had added another eight personal-best individual swims to their tally.
But could we really beat the fifth place from last year? Yes, of course. Third!!! Wow. What an achievement. This was the best result that Surrey has placed in more than two decades, and we think even going as far back as the 1970s.
"This was a phenomenal performance from everyone involved," county coach Stuart McCrea said. "It was amazing to see swimmers from a range of clubs and backgrounds come together and really get behind their team-mates."
Well done to all the swimmers on this amazing result – you all played your part in the team success.
Huge thanks also to our volunteer support staff of assistant coach Sergiu Chete (Guildford City), official Justin Bridge (Dulwich Dolphins) and assistant team manager Amanda Partridge (Epsom District).
The results are available here.
Hannah Davies