The Role
St Teresa's seeks to appoint a motivated and inspirational Head of Swimming to establish and develop a swim academy across both its prep and senior schools. The successful candidate will be committed to providing high-quality teaching and coaching to all our girls whilst also having the high level of skills required to coach our top-performing swimmers and nationally successful swim squads. The Head of Swimming will also be responsible for managing the pool and organising galas.
Full-time post, term-time only, with additional attendance at galas expected.
Remuneration circa £20,000, dependent on qualifications and experience.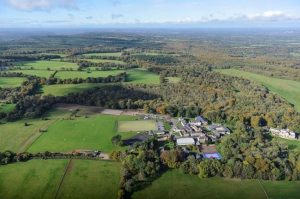 The School
St Teresa's is a flourishing Catholic independent school for girls from 5 – 18 years, founded in 1928 by the Sisters of Religious Instruction. In 2002, the ownership of the school was transferred to St Teresa's Effingham Trust, a company limited by guarantee.
St Teresa's offers a strong, caring community based on its Catholic traditions, and remains an inclusive environment welcoming pupils from all backgrounds. Our core values knit the school together, resulting in an atmosphere of mutual support, vibrancy and kindness.
St Teresa's values: faith, character, community, compassion, intellect. There are approximately 630 pupils on role.
Location
St Teresa's occupies a beautifully secluded campus of approximately 55 acres, providing security, privacy and tranquility in a safe and green environment. Set in the Surrey Hills, this region has 'Area of Outstanding Natural Beauty' status, making it a wonderful place to work, learn and study. There is easy access to London by road or rail; both Gatwick and Heathrow are within a 45-minute drive.
Facilities
The school is centred around the original 19th-century manor house, which has evolved over the years and now proudly boasts some outstanding facilities.
The extensive school grounds include large playing-field areas and further grassland, whilst a variety of interesting architectural and sculptural features complement the main buildings at the heart of the campus.
The school benefits from its own large, spacious hall; well-equipped library; music room; drama studios; all-weather surfaces for netball, hockey and tennis; heated 25m swimming pool; equestrian centre; tennis academy; performing arts centre and sports hall.
The Job Description
Teaching and Learning
• To plan and deliver sessions appropriate to the level of swimmer.
• To create long, medium and short-term planning for swimming across all age groups.
• To provide explanations and demonstrate swimming techniques.
• To correct faults in swimming techniques and identify ways to improve performance.
• To be a positive role model, creating a positive and fun environment in which to motivate and encourage children and young people to participate in swimming.
• To regularly assess each student's ability and progress and arrange for the award of the appropriate certificates.
• To contribute to the school's extensive fixture programme.
• To write termly reports based on each child's ability and progress.
• To attend parents' evenings.
Coaching
• To provide a committed and professional approach towards coaching, supporting each swimmer to reach their full potential.
• To provide a programme suitable for our high ability swim squad.
• To work in collaboration with the Director of Sport and Head of Prep PE to ensure the preparation of training session plans for all squads and allocate water time to the squads accordingly.
• To ensure that the appropriate level of coaching is available for all training sessions including land training.
• To attend appropriate competitions and training camps, with supervised delegation to appropriately qualified coaches and team managers where necessary.
• To monitor swimmers' progress and co-ordinate swimmer movements between squads in conjunction with the other PE staff.
Leadership and Management
• To develop a swim academy that provides outstanding coaching and organises impressive swimming events e.g. national aquathlon, galas, parent and toddler swim sessions that will help market the school.
• To perform a management role and deliver regular meetings for all coaching staff.
• To oversee the running of the pool.
• To follow Health & Safety procedures and the Swim England Child Protection Policy.
• To be aware of and adhere to the Emergency Action Plan (EAP) and Normal Operating Procedures (NOP) of all training facilities.
• This job description sets out the main aspects of the role but it should not be taken as a complete description.
Skills and Qualities Needed
• Ideally, a Swim England swimming coach certificate
• Minimum ASA coach level 2
• Self-motivated
• High levels of technical knowledge
• An in-depth understanding of the rules and regulations of national competitions e.g. IAPS, ESSA
• Excellent communication skills
• Empathy and the ability to relate well to young people
• Professionalism
• Good time management skills
• Ability to motivate others
Job descriptions are subject to review by the school's leadership team (SLT) and may change from time to time.
This appointment would be subject to receipt of satisfactory references and an enhanced Disclosure and Barring Service (DBS) check. The successful applicant would be expected to undergo a six-month probationary period and be subject to a three-month review.
The Appointment
The remuneration for this role is circa £20,000 per annum. As part of St Teresa's commitment to safeguarding and promoting the welfare of children, any offer of employment to this post will be subject to receipt of a satisfactory DBS check, qualifications, satisfactory references and a satisfactory response to a health questionnaire.
Download the application form here, complete it fully and accompany with your letter of application. The letter should indicate your suitability for the post and your motivation for submitting the application. Further information including examination results and the Independent Schools' Inspection Report can be found on the school's website www.st-teresas.com
The closing date for applications is Thursday 1 October 2020. Applications to be sent to:
Mrs Katherine Jones
PA to the Prep Headteacher
St Teresa's
Effingham
Surrey
RH5 6ST
Tel: (01372) 453456
Email: k.jones@st-teresas.com
www.st-teresas.com
St Teresa's reserves the right to interview at any stage of the selection process.